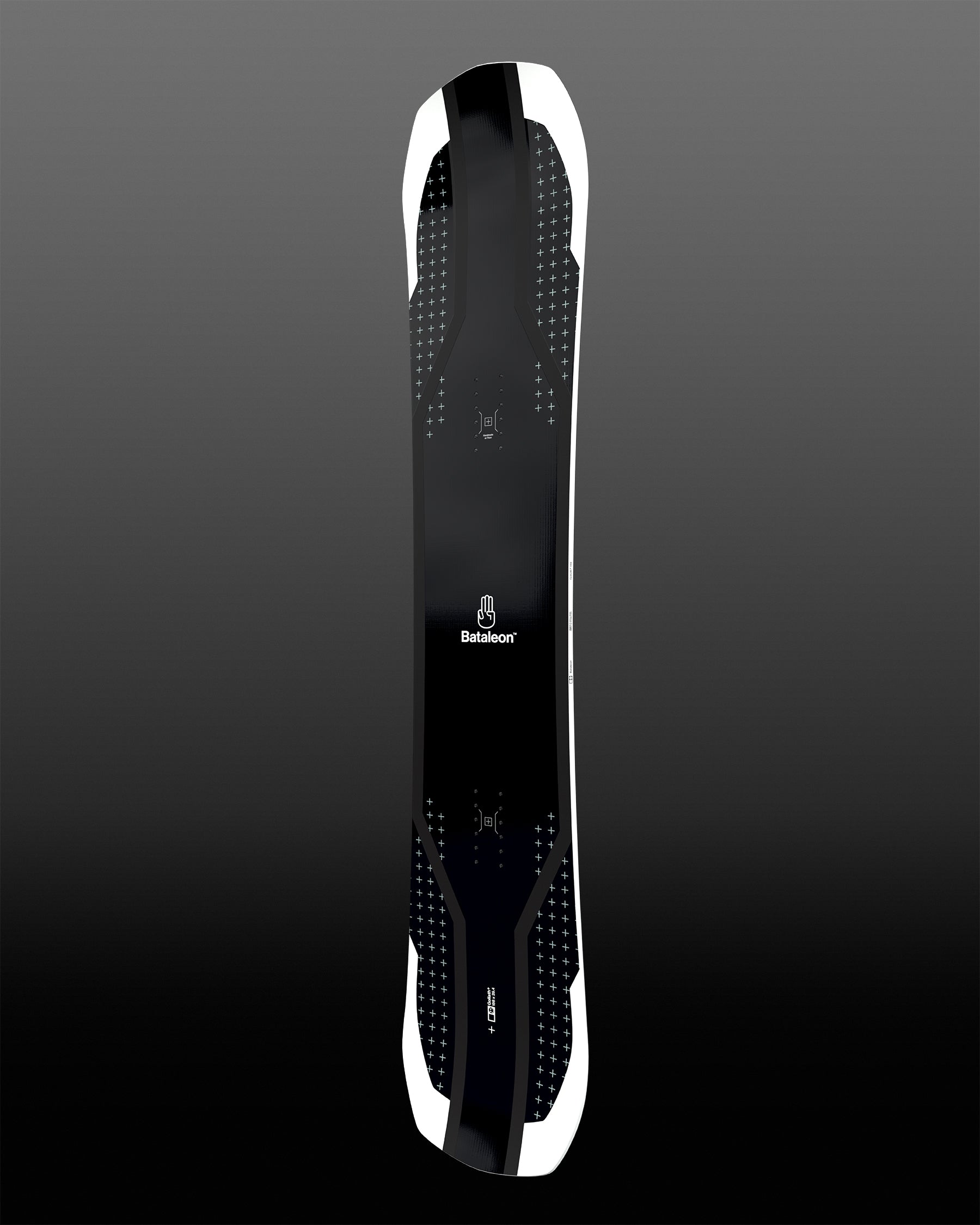 Regular price
Sale price
€ 649,95
Unit price
per
Sale
Sold out
The latest version of everyone's favorite Directional Twin get the plus treatment. The Goliath+ features a lighter woodcore featuring AirRide Technology, more carbon and the fastest base we could source. Faster, lighter, better and stronger. Let's upgrade your ride!
View full details
Terrain
What's this board's natural home? Full send in the park? Elbows down on the trails? Or chucking roosters somewhere off grid?
Flex
7.0
Softer snowboards are easier to press and won't kick your ass if you make a mistake. Stiffer decks are more stable at speed and super responsive edge-to-edge. Choose your poison.
Float
62
10100
Min. FloatMax. Float
Maximum volume for surfy vibes in the pow, or a smaller surface area for nimble freestyle performance. This number is calculated with length, width, 3D shape and surface distribution.
Outline Shape
Directional Twin
Boards that need to excel both on the slopes and out of bounds are shaped with evenly proportioned center and side bases and a medium uplift striking the optimal balance for freestyle and freeriding.
Camber Profile
Medium Camber
Camber profiles are defined from low to high. Higher camber make for more dynamic boards that need to be ridden more aggressively to get maximum performance. Lower camber boards are smoother on lower speeds and in powder. All camber profiles run from nose to tail. higher is not always better...
3D Shape
3BT™ + Sidekick™
Combining the responsiveness of traditional tip-to-tail camber with the dynamic shaping properties of Triple Base Technology and the performance boosting Sidekick feature makes for a 3D snowboarding experience like no other.
Nose Sidebase Uplift
Low
The gradual side base uplift in the nose determines how the board will behave on snow. most effected are the edge to edge performance and the uplift generated when riding powder.
Tail Sidebase Uplift
Low
The gradual side base uplift in the tail determines how the board will behave on snow. Any amount of uplift brings all the benefits of Triple Base Technology making opur boards more versatile then others.
Glassing
Tri-Ax Lamination
Our three-way fiberglass weave is light, strong and crazy responsive. We use this to beef up the flex pattern on our more aggressive boards.
Woodcore
Super Ultra Light Core
Our lightest core features an 80/20 blend of Paulownia and poplar for the ultimate in featherweight response.
Base
Ultra Glide S
A premium, 7000-grade sintered base reserved for our high-end models. Packing more molecules into the P-tex means it's super tough and hauls ass.
Sidewalls
Shock Walls
This is our Urethane infused sidewall technology. ShockWalls smooth out your ride and are more resistant to impact.
Tech
D.R.S.T. SuperTubes
Dual Radial Super Tubes, similar to DST but with four extra Super Tubes (six in total) running parallel to the board radius, delivering extra power to the edges.
Layup & Laminate
Carbon Stringers
Our tried and tested carbon layups. We deploy them in different areas to fine-tune the feel of each model.
At the heart of every Bataleon is a combination of 3BT™ and positive camber. It's an innovative solution to the profile puzzle that minimizes the potential for edge-catch without sacrificing ollie power or carving performance. From this starting point, we fine-tune each element according to the boards desired riding style.
SideKick™ builds on the concept of Triple Base by increasing the sidebase uplift just outside the widest points of the nose and tail. The tips become more like a hull, boosting float in deep snow and slicing through crud. It also helps the board to roll quickly and evenly from edge to edge.
Supertubes™ are hollow carbon cylinders that are inserted directly into the core. They reinforce the camber, reduce weight and greatly increase pop. By varying their location we can fine-tune the board's performance further.
AirRide™ is an additive we include within the woodcore of select models, which dampens vibrations and makes riding smoother at high speeds. It's like having a suspension system in your snowboard.
| | | | | | |
| --- | --- | --- | --- | --- | --- |
| Length (cm) | 156 | 158W | 159 | 161W | 164W |
| Effective Edge (cm) | 120.2 | 121.7 | 122.4 | 124.0 | 126.2 |
| Waist Width (cm) | 25.4 | 26.5 | 25.6 | 26.7 | 27.0 |
| Tip/Tail Width (cm) | 29.8 / 29.8 | 30.9 / 30.9 | 30.1 / 30.1 | 31.3 / 31.3 | 31.6 / 31.6 |
| Sidecut Radius (m) | 7.9 | 7.9 | 8 | 8.1 | 8.2 |
| Inserts | 24 | 24 | 24 | 24 | 24 |
| Min/Max Stance (cm) | 52.0-64.0 | 52.0-64.0 | 53.0-65.0 | 53.0-65.0 | 54.0-66.0 |
| Min/Max Stance (in) | 20.5-25.2 | 20.5-25.2 | 20.9-25.6 | 20.9-25.6 | 21.3-26.0 |
| | | | | | |
| --- | --- | --- | --- | --- | --- |
| Length (cm) | 156 | 158W | 159 | 161W | 164W |
| Weight Recommendation (Kg) | 67.0-87.0 | 73.0-93.0 | 75.0-95.0 | 79.0-99.0 | 85.0-105.0 |
| Weight Recommendation (Lbs) | 147-191 | 161-205 | 165-209 | 174-218 | 187-231 |
| Boot Size (EU) | 39-43 | 44-48 | 39-43 | 44-48 | 44-48 |
| Boot Size (cm/mondo) | 25.0-27.5 | 28.0-30.5 | 25.0-27.5 | 28.0-30.5 | 28.0-30.5 |
| Boot Size (US) | 7-9 | 10-13 | 7-9 | 10-13 | 10-13 |
| Boot Size (UK) | 6-9 | 9-12 | 6-9 | 9-12 | 9-12 |
Great
Switched from the whatever to thé Goliath and this board loves to shred the all mountain board i ever had ✌️✌️
Too much fun
This is my first year snowboarding. I've been on the mountain 10 times and decided to purchase the Goliath. I'm 6'2" 215lbs with a size 11.5 boot. I chose the 161W. This board is so much fun to advance your skills on. Makes learning switch riding so much easier. It carves great and is quick from edge to edge. This board is definitely a great beginner board to learn and advance on, at least for me it is.
Awesome
Sweet and Nice, everything you want from a board with these specs and this purpose.
Rocking Goliath
So I just had my first season with the Goliath and I want to say that it deffinetely wont be the last. Amazing board, no worries about edge catching, it takes couple of days to learn the leaning angle and you can also carve. Yea it may
not be the best on icy but who gives a damn about ice when you have a powder floating like a Aladin on the magic carpet.
Cant wait to start the next season.
+ awesome heads turning design
AWESOME!!!
I got this board originally as my instructor board for teaching beginner/intermediate snowboarding and it performs exactly how I wanted it to: AWESOME! A few weeks ago I found myself on the high, steep and deep treed backcountry at Crystal Mountain along with several other boarders half my age (I'm 72) with about two feet of new. There I was on the tallest peak at Crystal, on my "Instructor " Evil Twin+ park board, cursing myself for not riding my Orca up there. Well, following the group, I dove into the trees and new powder and had an absolutely great time. The Evil Twin+ obviously nimbly maneuvered through the trees, but, to my extremely satisfying delight, the board floated rather nicely, only needing a we-bit more rear leg pressure to prevent nose dives in the pow.
I've read other reviews that recommended setting the rear binding back for powder. I can tell you that's not necessary. Just become one with the board and let the amazing Bataleon 3BT technology do it's thing!
Choosing a selection results in a full page refresh.
Opens in a new window.